WELCOME TO RCIA!
Becoming Catholic…
You have made us for yourself, O Lord, and our heart is restless until it rests in you.

Saint Augustine
RCIA stands for Rite of Christian Initiation for Adults.
The RCIA is for: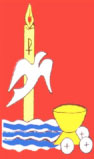 Unbaptized… persons who follow a process to help them grow in awareness to God's call to conversion as well as ways to respond to that call. They are considered catechumens.
Baptized in Another Christian Church… those catechized and uncatechized persons from a faith tradition other than Catholic who are seeking full communion with the Roman Catholic Church (Eucharist and Confirmation). They are considered candidates.
Baptized but uncatechized Catholic Adults… persons who were baptized as infants in the Catholic Church yet not given any religious upbringing within the Catholic Tradition. These adults will be prepared to celebrate the sacraments of penance, confirmation and eucharist. They are also considered candidates.
I enjoyed meeting so many wonderful people who have become almost like family. I liked the open dialogue and communication. It was not like a classroom setting. – Katy K. (Catechumen)
I loved it so much. After completing RCIA I feel there is a void and I really want to find another program to be involved in. Kelly H. – now a member of the RCIA team! (Catechumen)
Going in, I did not known what to expect. I loved that it was a very loving and caring environment. I enjoyed that it did not matter if I had a lack of religious knowledge. I was accepted anyway. To me that is what it is all about. – Candidate