ANGEL CORPS
Angel Corps provides caring assistance to parishioners who are unable to attend Mass because of illness, disability or age. We minister to parishioners in hospitals and nursing homes and those who are homebound. Volunteers bring the Eucharist, pray with sick or elderly parishioners, and  help with other services as needed. Our Angel Corps volunteers honor the privacy of those they visit.
Contact: Susan Hatcher (636) 391-0787
HABITAT FOR HUMANITY
Holy Infant Parish is starting to build houses! Parishioners will join with several other West County parishes to build one Habitat house each year, from the ground up!
For details on how to get involved, please contact Jim Miller at (314) 498-6784 or jrm@vizkids.org.
HELPING HANDS
Helping Hands: This ministry provides food for the family of a deceased parishioner. Teams of parish volunteers donate the side dishes and desserts to accompany a meat platter. "Pay it forward" donations are always welcome and help us continue this important ministry. The food can be delivered to where the family will gather for their lunch, within parish boundaries or in a reserved room on the parish campus (based on availability). The priest can pre-arrange for Helping Hands during the Bereavement Mass planning session.  For more information or to volunteer, please contact the Parish Office at (636) 227-7440.
KNIGHTS OF COLUMBUS
KNIGHTS OF COLUMBUS – LADIES AUXILIARY
MEAL-A-MONTH
Meal-A-Month Through the Meal-A-Month program, parishioners of Holy Infant support the St. Wenceslaus Food Pantry of our sister parish, St. Wenceslaus in south St. Louis. Meal-A-Month bags are collected on the first Saturday and Sunday at all the Masses in the church vestibule and lower lobby.
Contact: Bill Koop (636) 391-8575 or Don Turpin (636) 391-0546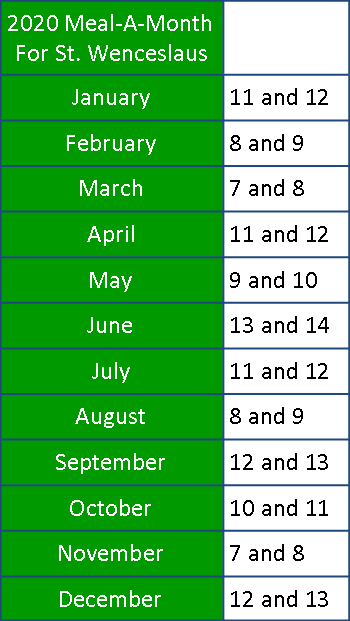 RED CROSS BLOOD DRIVE
The Red Cross Bloodmobile visits Holy Infant every June and October. Eighty volunteer donors are needed in June and 40 are needed in October  in order to reach our goal. People who cannot give blood are needed as volunteers to telephone or work at the bloodmobile, and men in particular are needed to setup and break down the bloodmobile.
Register at redcrossblood.org
Contact: Harold and Linda Pourchot (636) 227-6742 hpourchot@sbcglobal.net
RESPECT LIFE COMMITTEE
This organization encourages and supports all forms of LIFE, including unborn babies, pregnant women, and the elderly. As part of the Archdiocesan Pro-Life Committee, this organization monitors political happenings, such as pending pro-life bills, political candidates' platforms on pro-life issues, and changes in pro-life legislation. Your support and participation are strongly encouraged.
Contact: Chuck Raymond (314) 974-6787
On the 2nd Saturday of the month, we meet at Planned Parenthood between 9-10am to pray the rosary for the end of abortion. We carpool from the church parking lot at 8:15am.
Contact: Bill Koop (636)391-8575
SERVE ST. LOUIS
Volunteer for a morning of community service in October. Service projects take place at Holy Infant and throughout the St. Louis area.
Contact: Patricia Foley at (636) 227-7440 ext. 3 or Jennifer Lane at jenlane234@gmail.com or call/text (636) 236-9148.
ST. PATRICK CENTER CASSEROLES
STS. PETER AND PAUL HOMELESS SHELTER DINNERS
ST. VINCENT DE PAUL
ST. WENCESLAUS FOOD PANTRY
STEPHEN MINISTRY
STEWARDSHIP COMMITTEE