Our first day of PSR is Monday, September 9, 2019!
Welcome Letter and Parking Instructions
On behalf of the Religious Education Office and the Parish School of Religion at Holy Infant Catholic Church, we welcome you!
OUR MISSION
Holy Infant Parish School of Religion seeks to form young disciples to carry on Jesus' mission through teachings rooted in scripture and faithful to the teachings of the Catholic Church. Content embraces the four pillars of the catechism: Creed, Liturgy and Sacraments, moral life, and prayer. Parents, families, and the whole parish are involved through participation in prayer and activities that integrate lessons with life.
ABOUT OUR PROGRAM
The Parish School of Religion (PSR) is a vibrant, growth-filled program changing annually to meet the needs of its students. The program is designed for the children of our parish who attend schools without formal religious education as part of their curriculum. PSR aims to educate and form these students in our faith including preparing them for the reception of sacraments as well as deepening and reinforcing knowledge of their religion and values for living. Parents are reminded that they are the primary educators of their children in the ways of faith. The PSR faculty, consisting of parent volunteers and Holy Infant staff, is there to help them fulfill this responsibility.
REGISTRATION
Please stop by our office or call for an appointment.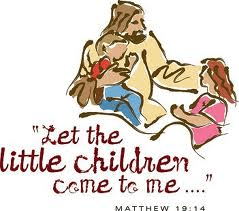 "Let the little children come to me, and do not hinder them, for the
kingdom of heaven belongs to such as these."
Holy Infant Parish School of Religion Registration
Click here to download PSR REGISTRATION FORMS
Click here for PSR CALENDARS & FORMS
Welcome to the 2019-2020 PSR school year at Holy Infant Parish. We look forward to working closely with you to help provide a Christ-filled school year for all the students of the parish who attend public school. Please know that as parents you are invaluable to this program. We recognize that you are the first teachers of your children and that no one knows them better or loves them more than you do. It is our goal, therefore, to work with you to support the faith formation of your child.
Our PSR program attempts to balance the religious instruction (message) with the experiences of Catholic community, service, and worship throughout the year. It attempts to meet the needs and understanding of all children and families, recognizing that there are varying degrees of catechetical background, understanding, and experiences.
Our children want to know there's a God out there who hears, understands, and loves them and they want to know that we as a Church listen, understand, and love them as well, and are eager to accompany them on their journey of faith. We strive to inform our children and families in the basics of the Catholic faith; assist parents in forming the children's ongoing spiritual development; and finally, be an instrument in transforming these children into Catholic Christian citizens with a strong faith on which to base their future spiritual growth, and to enable them to be evangelizers to the communities in which they will live. All that is accomplished by the grace of the Holy Spirit.

REGISTRATION FEES
We do charge a fee in order to provide the best catechetical program for your children, but we must stress that we want all children to be able to avail themselves of a religious education so scholarships or payment plans will be available to help parents who may be struggling financially.
Holy Infant Registered Parishioners:
One Child – $265; Two Children – $388; Three or More Children – $484
Non-Registered Parishioners:
One Child – $355; Two Children – $568; Three Children or More – $754
***A $100.00 family non-refundable down payment is due at the time of registration.***
OPTIONS FOR PAYMENT: Check cash or credit card (IN PERSON BY CARDHOLDER IN THE PSR OFFICE)
Registration forms including financial agreement and payments must be completed by May 24, 2019 to avoid a $50.00 late fee per family. Classes are filled on a first-come, first-served basis. New students are required to provide a copy of their baptism and birth certificates. Registering on time will allow you a choice of class times and usually our 3:15PM and 4:30PM sessions fill up quickly. After the 24th of May, 2019, we will be unable to guarantee you a time preference.
Please see registration forms for payment options
Click here for PSR CALENDARS & FORMS
Bless us as we look forward to continued joy in the ministry of catechesis.
Yours in Christ,

Patricia Foley
Director of Religious Education & PSR Director
(636) 227-0802
pfoley@holyinfantballwin.org
OFFICE OF FAITH FORMATION
Phone: (636) 227-0802 option 3
Mailing Address: 627 Dennison Drive, Ballwin, MO 63021
Physical Address: 248 New Ballwin Road, Ballwin, MO 63021
Patricia Foley
Director of Religious, Education
Director of Parish School of Religion
pfoley@holyinfantballwin.org
Mary Willett
Administrative Assistant
psroffice@holyinfantballwin.org