Holy Infant Catholic Church works to promote the physical, mental, and social health and wellness of parishioners of all ages.
EVENTS & ORGANIZATIONS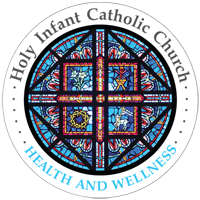 Holy Infant Catholic Church sponsored events and organizations:
Shamrock Shuffle
Red Cross Blood Drive
Yoga and Prayer
HEALTH & WELLNESS INFORMATION
DID YOU KNOW?
Your insurance provider may offer reimbursements for fitness memberships. Go to the Healthy Contributions website to see if your provider is on the list and see how your provider can begin offering this benefit or call 1-800-317-2739.
If you have Medicare supplement or advantage plan, make sure to look for the Silver-Sneakers or Silver and Fit benefits. They may cover your membership to your gym.