Welcome to Holy Infant Catholic Church!
Holy Infant is a Catholic community dedicated to spreading the Word of Christ! We strive to live as good stewards who join together for worship, study, formation, service and Christ-like activities.
ABOUT OUR PARISH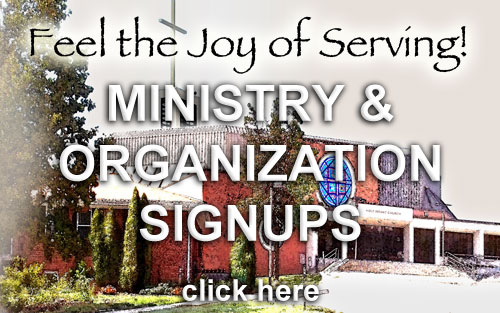 NEWS & ANNOUNCEMENTS
0 Comments
The parking lot will open at 6pm. All entrances will close at 7pm sharp and remain closed from 7-9pm. See...
Read More →
0 Comments
During 10:15 Mass in Classroom 164 Ages: Crawling through age 3 Drop off your kids in a classroom full of...
Read More →
0 Comments
Women's: October 17 and 18    Questions or to sign up: Andrea Szabo (352) 672-8730...
Read More →
0 Comments
September 30-December 17 7-9pm in the Holy Infant room http://divorcecare.org...
Read More →
MASS SCHEDULE
Saturday 4:00 PM, 5:30 PM
Sunday 7:00 AM, 8:30 AM, 10:15 AM, Noon
Monday-Friday 6:00 AM, 8:00 AM
School Mass Wed/Thu/Fri 8:00 AM
Saturday 8:00 AM
RECONCILIATION
Saturday 3:30 PM until all are heard or by appointment
QUICK LINKS
JOIN US